Kingston Maurward Animal Park and Gardens sits on the outskirts of Dorchester, Dorset in the grounds of the Kingston Maurward Estate. Get up close to small animals and farm animals, play in the play areas (indoors and outdoors), wander around the formal gardens or grab some lunch on the lawns of Kingston Maurward house overlooking the lake. For a relatively small site, Kingston Maurward Animal Park and Gardens captures the attention and you'll find it easy to spend a few hours soaking in the calm at this laid back family day out.
Best of all, Kingston Maurward Animal Park and Gardens are currently free of charge to enter for 2022 – making it exceptionally good value for a family to go and visit. With row after row of picnic benches, there's nothing to stop families from enjoying a day out at zero cost – you don't even have to walk in and out through the shop if you don't want to… Bonus for all of us who usually get stung there!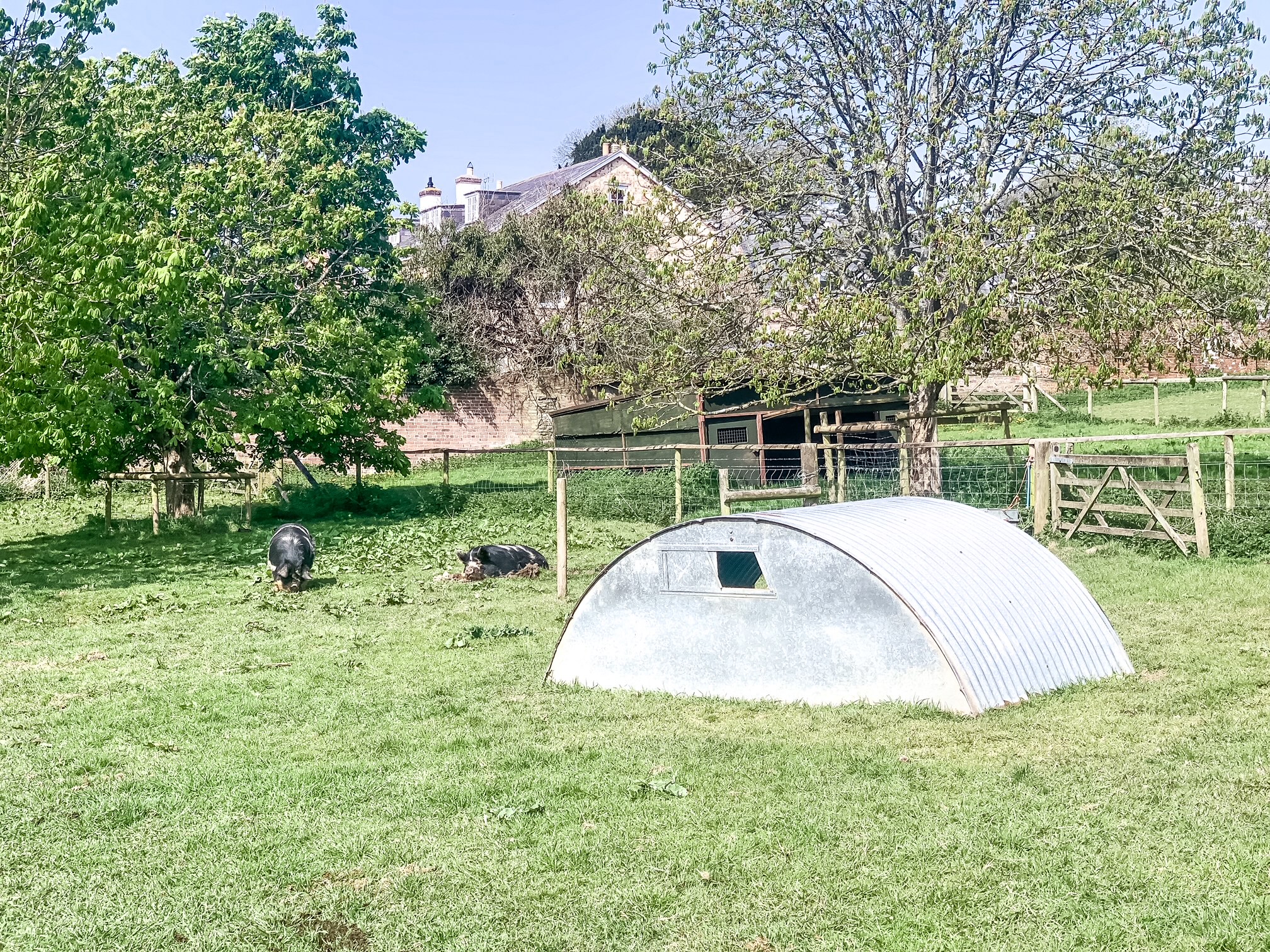 Kingston Maurward Animal Park and Gardens
Kingston Maurward Animal Park & Gardens is ideal for primary aged children and exceptionally well catered for families, especially during dry weather. You enter the site either through a small shop or via a side gate at the 'top' of the site. The site itself leads down to a lake at the bottom so it's on a small incline but nothing knee killing! Upon entry you'll find The Barn Cafe; an indoor cafe and small play area (be warned: this does get busy!) to the right and a large garden space filled with picnic tables and an outdoor play area to the left. Beneath the barn are small animal paddocks containing animals.
Animals at Kingston Maurward Animal Park and Gardens:
Shetland Ponies
Cows
Kune Kune Pigs
Rabbits
Guinea Pigs
Ferrets (these are above The Barn, next to the entry gate)
Pygmy Goats
Sheep
Various Ducks & Poultry
Follow the meandering paths around to get up close to the animals before reaching a point where you can walk down and around the lake or back up through the gardens. The gardens will take you through a more formal landscaped area with small spaces and paths opening to larger grassed areas, fish ponds and eventually the main house itself.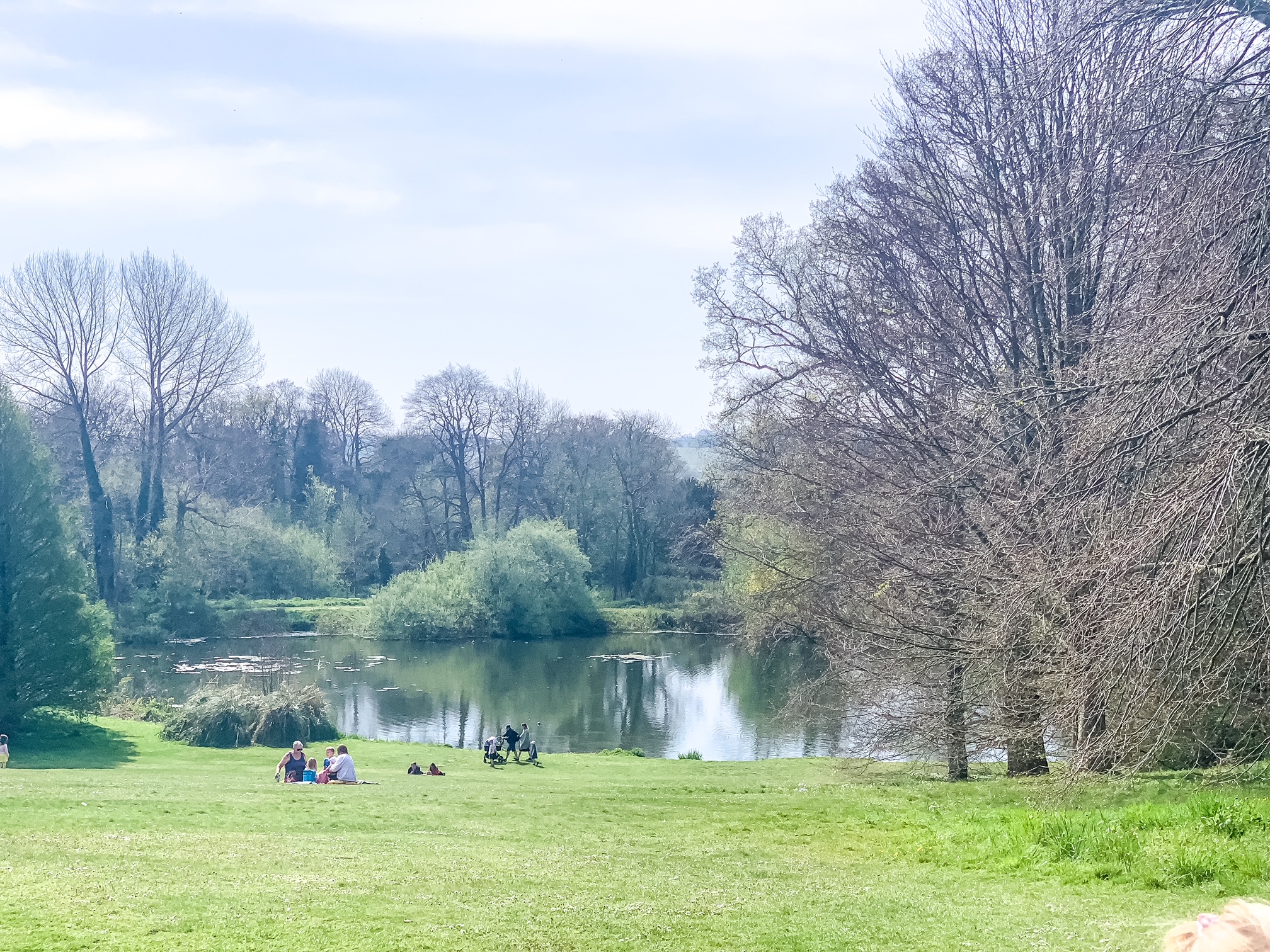 The main house sits above a large open lawn that leads down to the lake and makes a great picnic spot. There's a secondary cafe in the cellar of the main house which serves food and drink to the area in front of the house. Pull up a chair, or put down a rug and enjoy a calmer side to the Animal Park & Gardens than the main picnic area – and the hill is perfect for rolling down!
The Barn Cafe is open 10 – 4pm at the weekend and 10 – 3pm during the week. Our visit was on a hot day during school holidays and the site was busy in the main areas but still felt quiet and spaced out once we were in amongst the animals and gardens.
How To Get There
Kingston Maurward Animal Park and Gardens can be found on the outskirts of Dorchester, Dorset. The postcode for the site is DT2 8PX. Upon leaving the main road, you'll follow a road down before meeting a fork that sends main parking to the left. Look carefully and you'll see that the Animal Park and Gardens need you to go to the right. Follow the one way system a little further and a sign will point you to the left again with Animal Park & Gardens clearly marked. Parking is then along a long gravel pathway with parking on either side. Slightly above the parking you'll see a tarmac pathway and the main shop and entrance is next to this. You can't see much of the Animal Park and Gardens from the parking as it's on the other side of the hill.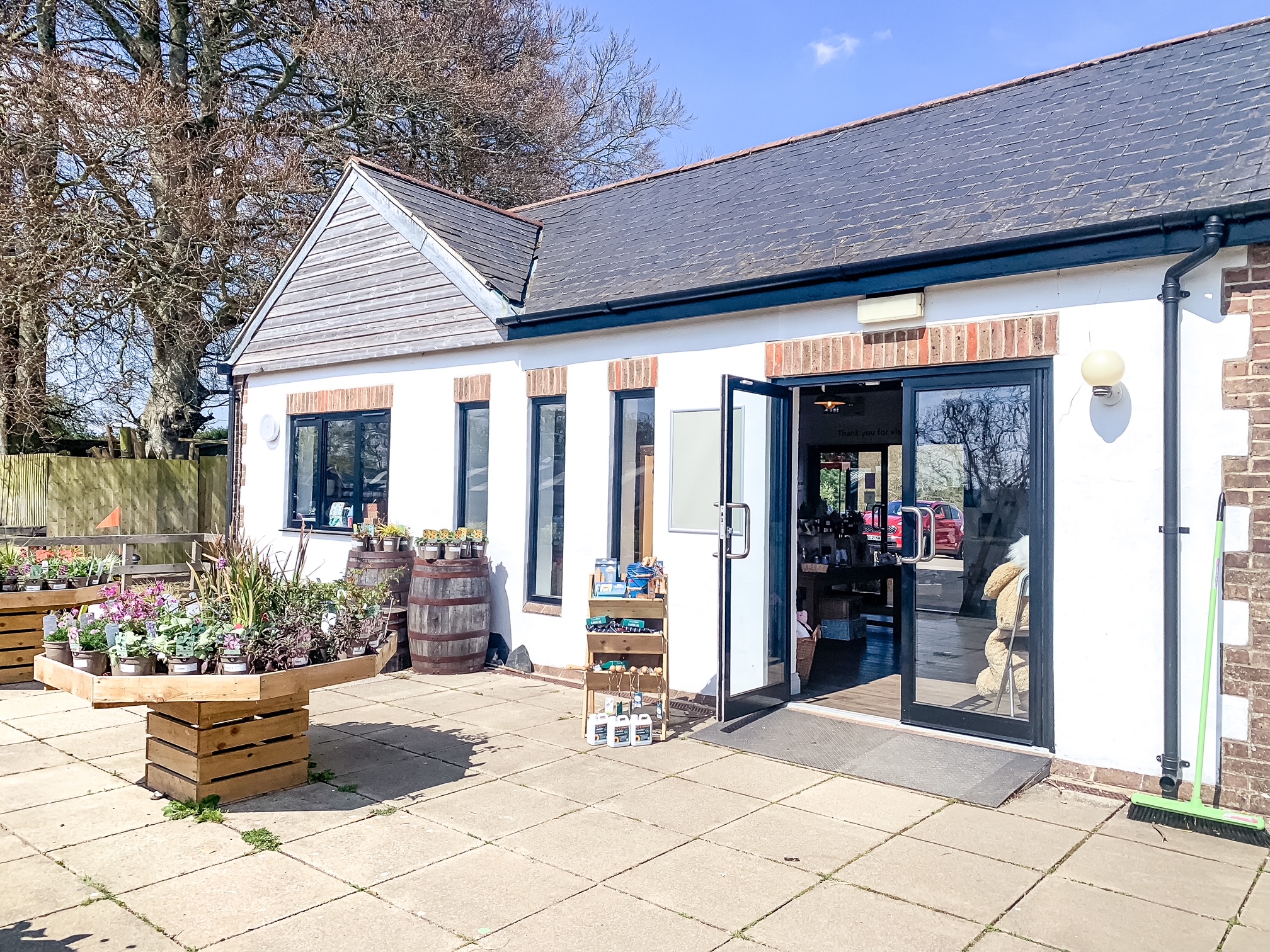 What Facilities Are There?
Toilets
Toilet facilities are limited on site and are situated to next to the main shop/entrance. There are plenty there but these are the only ones available on the whole site so they can be busy and a pain to get to if you're down by the lake or main house. There's a baby change area pushed into the corner of the ladies toilets and a disabled toilet next to the mens.
Food and Drink
Food and drink can be found in The Barn Cafe or in The Cellar (underneath the house, via the gardens). The Barn Cafe has large fridges with drinks as well as cakes, sausage rolls, packed lunch bags for children and various items that can either be eaten in or taken out on to the picnic tables outside. There are lots of picnic tables outside but even if those are filled, there's still room for blankets! The Cellar serves more plated options such as a Ploughman's lunch (quiche, cheese or ham options), toasted paninis or another couple of options. There are less tables in this area, and no indoor options but it's a much quieter space than the main area and has far more room for sitting on the lawn overlooking the lake.
Is It Pushchair/Wheelchair Friendly?
The site is primarily accessed by grass and gravel paths so whilst it's pushchair accessible, it wouldn't be particularly easy with a lightweight buggy. Wheelchairs may struggle. Within the gardens there are lots of stepped areas and whilst most of it can be overcome by using grass tracks around the sides, this wouldn't work in poor weather conditions. It's worth remembering that the site is on a hill and that this can be tiring by the end of the day, it's not a large incline and paths tend to zigzag it which makes it easier but it's not flat. For those with mobility issues, we felt it could be made easier with a little thought from the owners.
Is It Dog Friendly?
Dogs are allowed on site but must be kept on a short lead and shouldn't go near the animals.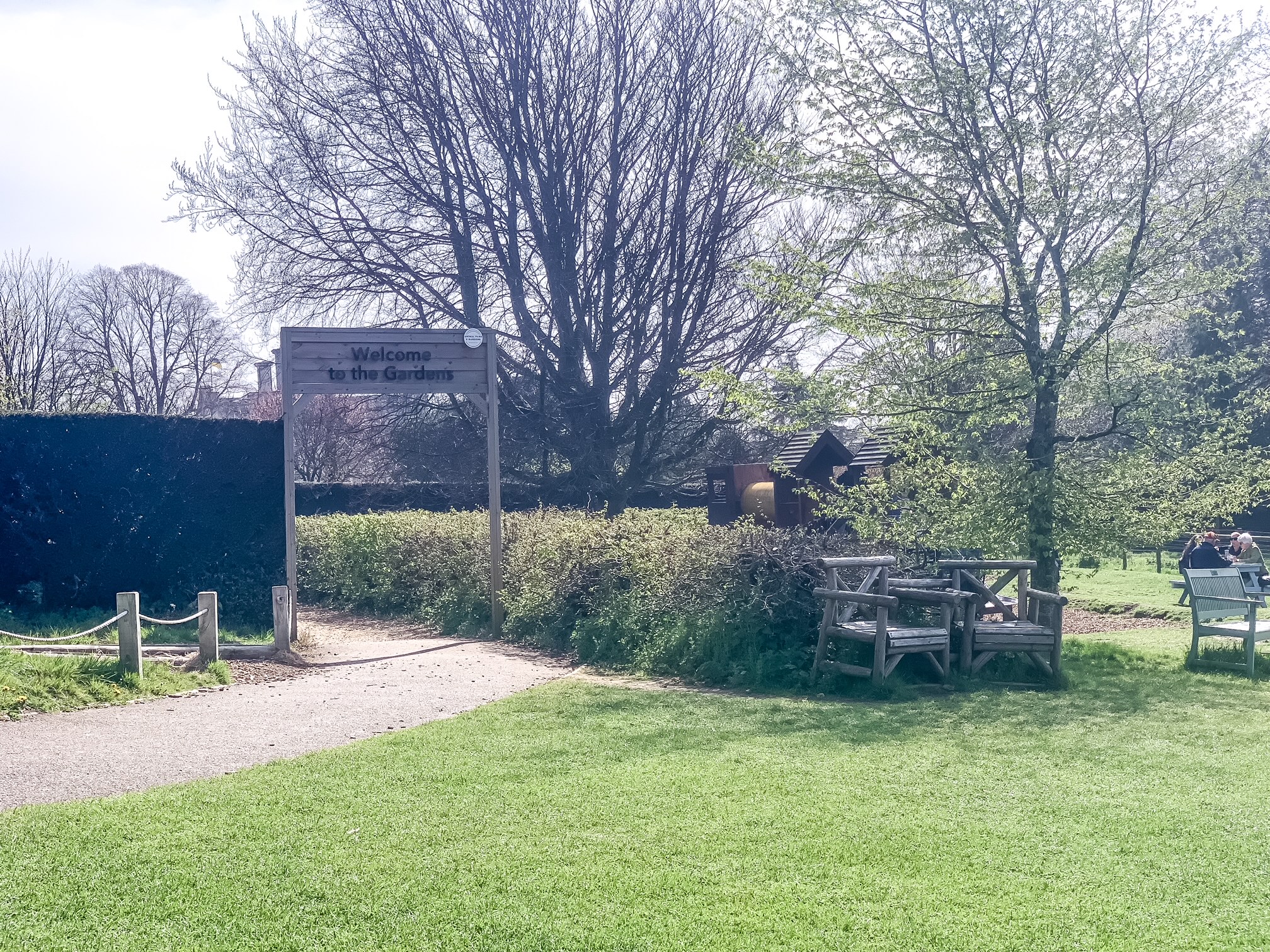 Our Thoughts On Kingston Maurward Animal Park and Gardens…
A popular attraction that's set up perfectly for families with young children, we'd happily visit Kingston Maurward Animal Park & Gardens time and time again. The Play Barn is a great attraction that helps to encourage people during the wetter months but the whole site is ideal for warm, sunny days out. Play areas, gardens to explore and animals to see make this a very relaxed day out to take at your own pace. The only thing we'd like to see is some toilet facilities over by the house area – as little legs always seem to want a wee at the furthest point away from the toilets. The site being free to access for this year means it really is an affordable day out and a bit of a hidden gem!
What Else Is There To Do Nearby?
Pop into Dorchester for a wander around the town or discover Poundbury, the experimental town built on Duchy of Cornwall Land in conjunction with Prince Charles. Looking for more days out? How about Monkey World (read our review here) for a fun day up close with plenty of monkeys! Nearby there's also Abbotsbury where you'll find the Swannery, the Subtropical Gardens and the Farm all available on a combo ticket. Keep to the coast for stunning coastal views, head further east for well-known attractions such as Chesil Beach, Durdle Door and Lulworth Cove or head west for places such as Golden Cap!